Hello and welcome to Our Crafty Mom! It is so hard to believe it is already the end of the month! That means it's time for our Thrift Store Decor Upcycle Challenge. If you've visited here before you know I am moving my daughter into her first apartment for her Senior year of College this weekend.
This post contains affiliate links at no extra cost to you. I received product from DecoArt used in this post. Please see my full disclosure here


The apartment does not have a single piece of furniture, so I have been scrambling to ensure she at least has the essentials. That is where my thriftiness comes in handy and saves a ton of money! My neighbor was throwing this kitchen table and chairs out and I couldn't get it in my car fast enough!
Look at the detail on these captain chairs! I knew with a little love these babies would shine!!
The Rules:
Upcycle an item(s) from a thrift store, resale store, or garage sale into a new piece of decor.

There's no monthly theme.

There's no budget to stick to.
Meet the Hosts
Amanda | Domestically Creative Kim | Made in a Day
Victoria | Dazzle While Frazzled Pili | Sweet Things
Debra | Shoppe No. 5 Sue | A Purdy Little House Chelc | Inside the Fox Den
Kimm | Reinvented Ann | Duct Tape and Denim Sara | Twelve on Main
Kim | Farmhouse Made Toni | Small Home Soul Angela | Simply Beautiful by Angela
Michelle | Our Crafty Mom Marie | DIY Adulation Chelsea | Making Manzanita
Leanna | Of Faerie and Fauna Denise | My Thrifty House Lindsay | Crazy Organized
Florence | Vintage Southern Picks Shirley | Intelligent Domestications Michelle Michelle James Designs
Make sure you follow our board on Pinterest for more upcycled decor inspiration!
---
My daughter and her roommates are going with a coastal theme and we decided on a pretty gray color for the table and chairs. But I couldn't stop there as the table looked really plain. I decided to jazz it up with a cool medallion stencil after getting the go ahead from the group. Here is the finished project and then I'll share what I used on this piece:
Supplies
Mandala Stencil (Similar)

Deco Art Americana Decor Maxx Gloss

FrogTape

Stencil Roller Kit

HomeRight Finish Max Sprayer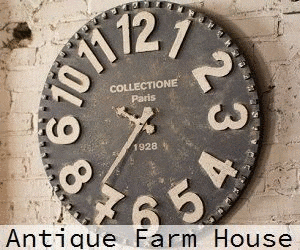 I decided to use the paint sprayer on the chairs, table base and legs and it was done in no time. This paint sprayer is seriously one of my favorite DIY tools. I hate painting spindles and the sprayer makes it so easy. Each piece was given two coats of paint letting it dry in between. For the table I used a foam roller, again giving it two coats.
Once it was dry I taped the stencil in the center of the kitchen table and used white chalk paint on the entire piece. It is so simple using a paint roller.

The table and chairs were finished with two coats of clear wax sealer. I'm going to pretend that the kids won't be using this table to play quarters or whatever other college drinking games are popular now, lol! I will point out they are 21! Maybe the reminder that Mom refinished this table for them will minimize any drinking games!
Once it is all set up in the apartment, I will post an updated photo. Right now my living room is taken over by apartment furniture! I hope you enjoyed this post and will check out the other projects linked below. I have seen a sneak peek and you will not be disappointed!
**Pin For Later**
---
And now for more thrifty goodness!
Check out what my fellow upcyclers created below!