Make a gorgeous rustic grapevine fall wreath with this easy DIY tutorial.

This post contains affiliate links. This means if you click the link and buy something, I may receive a percentage of sales at no extra cost to you. Thanks for supporting Our Crafty Mom!
DIY Grapevine Fall Wreath
The kids are back to school which means Fall is just around the corner!
Time to at least think about Fall Decor 🙂 which makes me very happy!
Today I'm sharing my DIY Rustic Grapevine Fall Wreath.
If you've visited Our Crafty Mom before, you know I love a little glam and bling!
Hey, I'm from RI what can I say? Luckily, metallics seem to be everywhere this Season.
Check out this display of pumpkins at Joann.
My heart skipped a few beats when I stumbled upon these! Not to mention I had a 20% off sale item coupon.
Don't you love when that happens?
I decided to go with the white and gold pumpkins to make my wreath.
I then checked out the stems on sale and-you guessed it-full of metallics.
Yippee! I grabbed two copper and silver metallic stems that looked perfect with my pumpkins!
Here is my completed wreath:
DIY Rustic Grapevine Fall Wreath

Supplies
3 small gold/white pumpkins

1 medium sized white sugared pumpkin

2 large stems copper/silver

grapevine wreath

small gold/copper pumpkins/gourds

ribbon of your choice

floral wire

paperclips

wire snips

glue gun
Once I gathered my supplies this wreath went together in under an hour.
First, cut your stems so you can arrange them around the wreath base.
You can add hot glue to the ends if you like. I also attach them with floral wire so they are nice and secure.
This is the foundation for the wreath so you want to ensure it is solid.
Just bend and straighten the individual stems until it is even all the way around.
It is always good to start with the largest pumpkin first.
I look at the wreath as a clock and add the largest pumpkin to the number 6 spot.
I knew I would be hanging this wreath above my mantel, so I first placed it against a wall to see how far forward the pumpkin needed to go.
I learned a trick last year with paperclips-they are great for attaching foam items.
I used to buy the floral clips but they are a little pricey.
Paperclips can accomplish the same job. Just bend the paper clip to put one end into the base of the pumpkin.

Add a little hot glue at the end of the paperclip, then add the other end to the wreath with hot glue.
If you are using a foam wreath-even easier, just stick it right in.
Next, attach the 3 smaller pumpkins wherever you like.
I added one to the 12 & 9 spot, but because I was adding a bow to the 3 spot, I added the pumpkin under the bow.
Use the same paperclip technique as show above. Definitely add the hot glue, though-we don't want any pumpkins falling off!
This is the perfect time to add your ribbon. There really is no set way to do this.

Just play around with it prior to attaching until you like how it looks.
I always make my bows with 8-10 loops for a standard size wreath.
The bow was secured with floral wire to the wreath base.
Finally, add the smaller gourds and pumpkins with hot glue.
You really can customize to your liking.
Originally I planned to add some neutral sunflowers, but once it was complete, I decided I didn't need them.
The focus really should be on the gorgeous metallics.
Here is a link for a double fall wreath that I shared last year, as well as my fall home tour:
Be sure to check out all the lovely fall wreaths shared by the talented bloggers below.
You are in for a treat!
The DIY Mommy // A Home To Grow Old In // Jennifer Priest
Up to Date Interiors // Hey Fitzy // Monica Wants It
Lura Lumsden // PMQ for two // Cottage in the Oaks
Our Crafty Mom // Nourish and Nestle // Twelve on Main
Architecture Of A Mom // Three Mint Balloons // AttaGirlSays
KS Craft Shack // Paint Yourself A Smile
DIY Fall Wreaths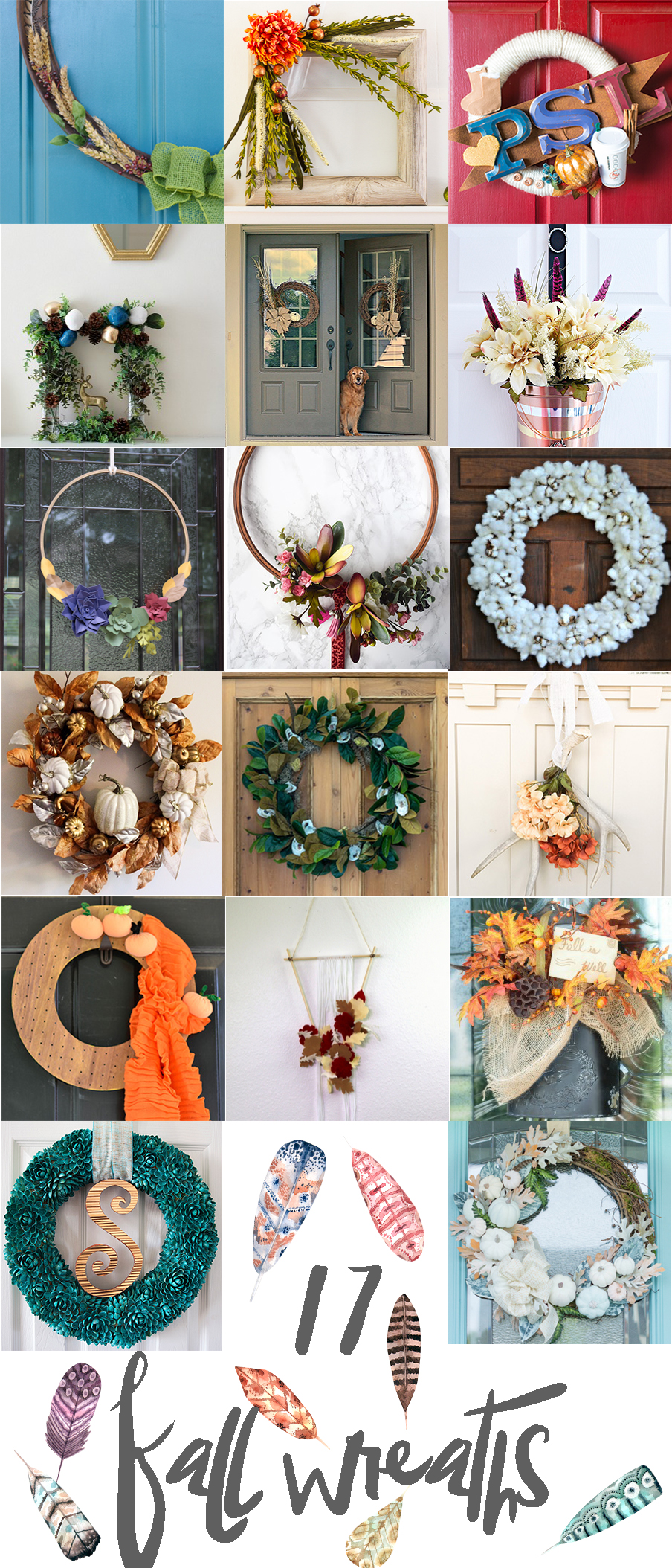 Thank you so much for visiting Our Crafty Mom!

Be sure to check back often as I will be sharing lots of Fall goodness with you! Have a great day.