See how easy it is to upcycle a thrift store wreath for Valentine's Day for $6!
Hello! We're happy to be back for our first thrift store challenge in 2020. We took a couple of months off to enjoy the holidays with our families. Happy New Year!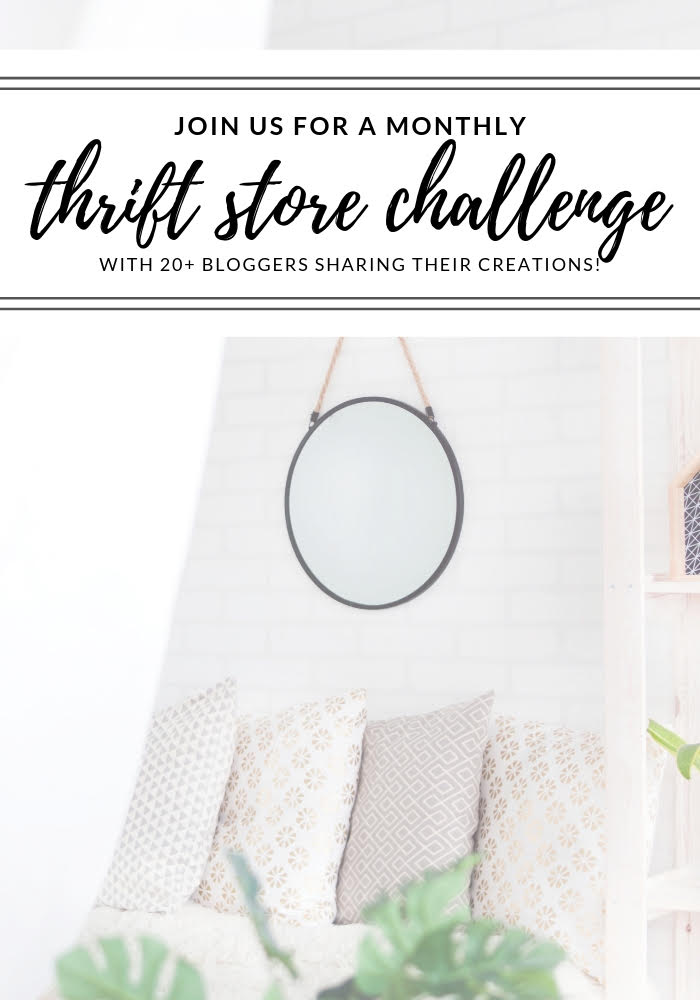 The Rules:
Upcycle an item(s) from a thrift store, resale store, or garage sale into a new piece of decor.

There's no monthly theme.

There's no budget to stick to.
Meet the Hosts
Angela | Simply Beautiful By Angela – Pili | My Sweet Things – Beverly | Across the Blvd – Gail | Purple Hues and Me – Chas | Chas' Crazy Creations – Michelle | Our Craft Mom – Meredith | Thriftwood Home – Kathleen | Our Hopeful Home – Jenny | Cookies Coffee and Crafts
How to Upcycle A Thrift Store Wreath For Valentine's Day
For today's project I upcycled a thrifted Christmas wreath for Valentine's Day. The weekend after Christmas I went to my favorite thrift store and found an oversized wreath marked down to $3-score!
It is a good 36″ and really full, which I loved. I immediately scooped it up. I never pass up wreath forms, because they can easily be changed.
Even if I chose to remove all of the pine, the wire form alone was well worth the $3 price. Whenever shopping at thrift stores, definitely look past what it is and try to think of what you can make it! 🙂
There was also a huge bag of pink ornaments and other items, like pearls, snowflakes and bows all in shades of pink and white-perfect for Valentine's Day:
This bag was also discounted to $3. It was amazing to see how much stuff was actually in this bag. It was at least $20 worth of decorations!
I apologize for the blurry photo. I was so focused on taking a video of the project that I didn't take still photos. One of my goals in the New Year is to create more video content.
Like so many of you, I'm a visual person and know it will help with DIY projects and crafts to include video. So bear with me while I work on that.
Using leftover Christmas ornaments for wreaths is something I enjoy making. You can see the heart wreath I made here and a rose gold and white ornament ball wreath here.
Supplies Needed For Valentine's Day Wreath
Wreath Form

Ornaments, pearls, snowflakes, ribbons
My daughter received this really cool DeWalt Multi-Tool for Christmas. What a handy tool. I can't believe I haven't bought one.
To update the wreath, I simply used the wire cutters to remove the pinecones that were attached to the wreath with floral wire.
[Tweet "How to Upcycle A Thrift Store Wreath For Valentine's Day @ourcraftymom #diywreaths #valentinesday"]
Then it was just a matter of placing the ornaments and pearls where I wanted them on the wreath. Once I was happy with the placement, I used the hot glue gun to attach them.
I love the look of the pearls on the wreath, but my favorite is the center jewel snowflake. Can you believe there were two of those beauties in the bag?
This Valentine's Day wreath definitely has a shabby chic vibe to it.
If you decorate in that style, it is something that could stay up at least through February. It doesn't scream Valentine's Day, which I also like.
Sharing is caring…please PIN the below image:
However, if you are looking for more of a classic Valentine's Day wreath, this red heart deco mesh wreath is for you. Enjoy the rest of the projects!
And now for more thrifty goodness!
Check out what my fellow upcyclers created below!