Welcome friends! We are back with another monthly Furniture Refresh Challenge. I am sharing a fun DIY Mirror Turned Chalkboard With Saltwash.
This post contains affiliate links. This means if you click the link and buy something, I may receive a percentage of sales at no extra cost to you. Thanks for supporting Our Crafty Mom!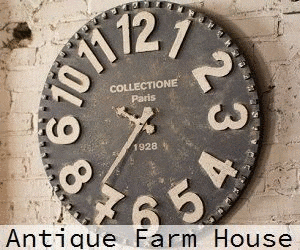 This is such a great challenge that we really look forward to.
Be sure to check out the other projects below. I am always amazed at the level of creativity from this group of lovely ladies!
If you have visited here before, you all know how much I love a good roadside find.
I have embarrassed my daughter many times slamming on the brakes when I see something on the side of the road-almost causing whiplash!
This mirror was no exception. We were visiting family in NY and this baby was left by the trash!
Now, when you first see it you understand why. The mirror is completely broken in half and the frame has some damage, however, the molding and detail is just stunning!
Here is the before:

I know, pretty bad, but you see the potential right? Check this beauty out now:
[Tweet "DIY Mirror Turned Chalkboard With Saltwash Furniture Refresh Blog Hop #ourcraftymom"]
DIY Mirror Turned Chalkboard With Saltwash
Supplies
Saltwash

Purdy Paint Brush
Sometimes when there are imperfections in furniture it is best to just roll with it, rather than try to repair it.
As, my wood repair skills are limited to wood glue, I decided to add Saltwash to my paint to cover up the cracks in the wood.
You can purchase Saltwash here.
I mixed Saltwash with DecoArt Americana Chalky Finish paint in everlasting. It's a perfect shade of white.
Next I gave the entire piece a heavy coat and let it sit overnight. The peaks in the paint is exactly what I was going for:
The ribbon details at the top of the mirror looked very feminine to me, so I decided to make this for a little girl's room.
Therefore, I went with a beautiful soft pink by DecoArt Called Innocence. I just gave it a light wash of the pink.
Next, I disposed of the broken mirror and painted the back insert with gray chalkboard paint. It is my first time using gray Chalkboard paint and I love it!
I felt the gray would be softer with the pink. Because this is a very large mirror, I felt it needed something in the center.
I created a stencil using my Cricut Explore Air™ machine . I just used chalk, so it can wiped off and changed out.
I love pieces that are versatile and the possibilities are endless with this beautiful chalkboard-how about adding a frilly banner, or hang a wreath on it?
How would you decorate this chalkboard?
Don't forget to check out projects from the other bloggers participating in this fun challenge. Check out all the before pics here:
Here are the links so you can see the afters-you will be blown away!