Today I'm thrilled to be teaming up with 27 truly talented bloggers to share our fall home tours! A huge thank you to Angelina from Peonies and Orange Blossoms for hosting.
This post contains affiliate links at no extra cost to you. Please see my full disclosure here
Be sure to visit my blogging friends to see how they have decorated for fall. The links are shared at the end of this post.
If you are visiting from The Organized Mama welcome to Our Crafty Mom. I live in a townhouse in New England where the fall foliage is seriously magazine worthy. Fall is my absolute favorite season. I can't get enough of all the art festivals and all things pumpkin spice!
We enter into a small entryway with a sneak peek of my outdoor decor!
While I decorate the outside in classic fall colors, the inside is the opposite with soft, neutral colors. I will be sharing the outside in a blog hop next week and hope you will come back to check it out.
[Tweet "Farmhouse Style Fall Home Tour – Fall Blog Hop – Our Crafty Mom #fallhometour #farmhouse"]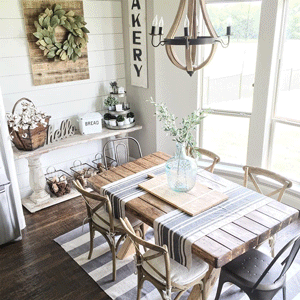 The Entryway
You will see lots of white pumpkins throughout my home. A mix of both real and fake. I love the little boo pumpkins, but they have been hard to find. I did manage to find some though. I love the look of mums in olive buckets. It's classic farmhouse style! You can find the olive bucket here
The Living Room
A DIY Wood Slice side table is the perfect size for this large olive bucket with a white mum.
I have a slight obsession with throw pillows, but to save money I make my own. All of the pillows shown are DIY. A tutorial for the stenciled pillows can be found here.
Chalkboards are another favorite and I have several different sizes all made from thrift store finds. This large chalkboard hung over the couch was an old mirror.
The sheepskin bench provides extra seating and also brings in texture.
My Dad has a small farm and raises chickens. He found this old chicken feeder in his shed and asked if I wanted it. Hello? A rusty, galvanized metal chicken feeder-absolutely!! This baby is long and runs the entire length of the coffee table. I filled it with boo pumpkins, leaves and pine cones with a few candles. I like that it doesn't obstruct the view of the television.
I will be sharing a tutorial on Monday for the gather sign. It was so easy but is classic farmhouse goodness!
I've said it before, but it's worth repeating this is my "Mom chair" and is the most comfortable chair ever! It is from the IKEA Ektorp line. I eventually want to replace my couch with the same Ektorp sectional.
My attempt at chalkboard art!
I shared the fireplace mantel here but just in case you missed it, here it is:
The Dining Room
I just switched the blue and white curtains from the dining room to the living room and like them much better now. I went with white sheers and it gives the room a much more open feel.
I have been wanting a tobacco basket forever and finally found this at Hobby Lobby for $11 with the coupon! Score!
This gorgeous ceramic pumpkin fits perfectly on a bed of dried hydrangeas in an urn.
The view from the picture window. You can just see the tips of the trees turning. I'll share an update in 3 weeks when they peak.
I told you there would be white pumpkins!! I just love how they look in the small ironstone bowls and the larger pumpkins on top of the hutch.
A small collection of ironstone pitchers fits in perfectly with the farmhouse style. I added dried hydrangeas from my yard and just made that wood bead garland this morning. I had leftover beads from my lamp. Here is the lamp:
The antique scale was a steal years ago at a thrift store for 3.99!! Well there you have it! Easy, inexpensive DIY ideas to get that farmhouse style. I hope you enjoyed my Fall Farmhouse Style Home Tour. Enjoy the other tours below! Happy Fall Y'all!
**Pin For Later**
Monday
Tuesday
Wednesday
Thursday
Friday