The Farmhouse Hens are back with more farmhouse goodness for you! Today we are all sharing Farmhouse Kitchen ideas and I will show you how I made a simple DIY Farmhouse Kitchen Sign. Be sure to visit the other Farmhouse Hens to see what they created. Their links are located at the end of this post. Enjoy!
This post contains affiliate links at no extra cost to you. Please see my full disclosure here

[Tweet "How To Make A DIY Farmhouse Kitchen Sign #farmhousehens #diy #pallet"]
How To Make A DIY Farmhouse Kitchen Sign
This sign came together so easily, but I really love it! I went with my go to white chalk paint Deco Art Americana Chalky Finish Paint in Everlasting
.
I seriously love this paint and make sure to always have it on hand. You never know when inspiration will strike! The one tip I always give when stenciling is "less is more". It is always best to add very little paint and if you need to touch it up after you certainly can. But if you use too much paint there is a chance it will bleed under the stencil and that is harder to fix!
Now let's talk about this stencil! It is from Knick of Time Vintage Sign Stencils and it is perfect for this farmhouse sign! Did you see the pillows I made with this stencil and another that Angie from Knick of Time sent me? In case you missed it, here they are:
I cannot recommend these stencils enough. Each one is made of thick, sturdy plastic and the selection is great for vintage farmhouse style! I found a premade Pallet sign at the craft store and it was the exact size that I needed. With a 50% off coupon it was only $6.00! A paint roller made stenciling a breeze and I had this sign done in under 20 minutes! You can distress it if you like, but I chose to leave it as is. I liked the bright white against the darker stained pallet.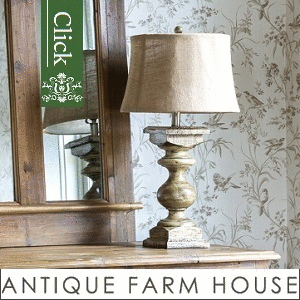 The Kitchen Aid Mixer is my favorite kitchen appliance and this sign looks great above it. Of course I had to pick up an apple pie as I didn't have a chance to bake one! My son was thrilled as that is his favorite. I hope you will hop on over to see what the other hens created. I know you will love their projects!!
**Pin For Later**
Farmhouse Kitchen Decor Ideas by Leanna@ Faeries and Fauna
Farmhouse Kitchen Project by Tarah @ Grandma's House DIY
DIY Farmhouse Kitchen Sign by Michelle @ Our Crafty Mom
Creating a Modern Farmhouse Kitchen with Vintage Treasures from Denise @ My Thrifty House
Easy Farmhouse Kitchen Wall Hanger by Sam @ Raggedy Bits